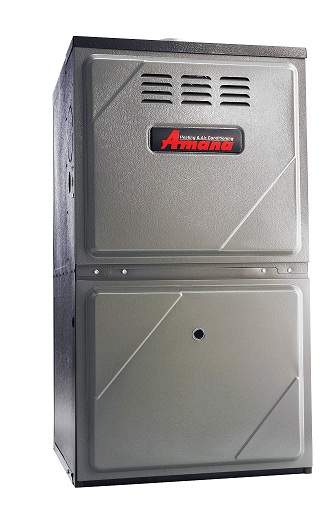 When looking for a gas furnace, the Amana range of furnaces should be top of your list. The Amana models have many advantages. However, key to their popularity is the peace of mind offered by their lifetime unit replacement warranty if the heat exchanger fails, offering one of the most attractive warranties on the market. If you want your gas furnace to last forever, you may do worse than consider an Amana furnace. Asides from peace of mind warranties, next on your list should be climate control and comfort in your home in the both summer and winter. Several Amana furnaces offer variable and multi speed settings which slowly increase the thermostat setting rather than starting out at full speed. Cold air blow associated with single speed furnaces is thus eliminated. If you're looking for the best energy efficiency, then you need to look for the highest AFUE rating.
To find the highest level of energy efficient gas furnaces look for the highest AFUE rating. The range is available in 80% and 96% AFUE with a 2-stage variable speed burner and a 93% and 80% AFUE model with single speed burners. Obviously the higher the 96% AFUE furnaces have more advanced features such as variable speed burners, however all models offer a high spec silicon nitride igniter which Amana claim is seven times stronger than other similar silicon carbide igniters which reputedly operate under hostile conditions such as condensation, contamination and even bleach! A reliable igniter with an adaptive learning routine allows the igniter to provide just the right temperature for ignition, and is the secret behind Amana's SureStart ignition system which proves reliable in all climates.
Amana's boast of unsurpassed reliability may have something to do with the company's rigorous testing system which they boast is a hundred times better than the industry standard.
Ease of installation and servicing that the company boasts of its furnaces, something which may influence costs of maintenance over time. The range of Amana gas furnaces boast highly technical and reliable furnaces with stainless steel heat exchangers which are very energy efficient.
The benefits of the Amana gas furnace system include central air conditioning, cleaner air and quieter operation. Central air con keeps your home cool and significantly reduces humidity levels giving your indoor comfort in warm weather.
Cleaner air is circulated round your home as the air is filtered through the system and airborne particles such as dust and lint removed. This clean air is then circulated back into your rooms via ducts giving you greater comfort in all weathers.
Amana offer a quieter operation because of compressor bearing units which are located outside your home cutting the indoor noise which is lower than a free standing air con unit typically, the Amana system has an outdoor air- conditioning unit and an indoor coil which is installed on top of the furnace in the home, usually in the attic. The compressor pumps cool air around the system which gathers heat and moisture and removes it from your home. All in all, the Amana range offer comfort in both warm and cool climates for an affordable price with a good choice of models.