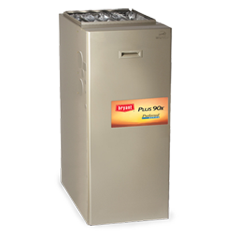 The Bryant Preferred 95i model 355BAV is part of Bryant's second-best line of gas furnaces. This neat model could pass for top of the range from many manufacturers with it Energy Star efficiency, 2-stage heating and variable-speed blower fan. It provides outstanding indoor climate control for all seasons and weather.
This furnace helps to reduce hot or cold areas in your home with very little price fluctuation. The 2-stage gas burner operates at around 65% capacity for most of the time, producing longer cycles, gentler heat and better humidity control. The effects are the same when it is working in conjunction as a central air conditioner.
The Bryant Preferred Series 95i with Perfect Heat model 355BAV gas furnace price offers a range of top features including:
95% AFUE; Energy Star qualified.
Perfect Heat is Bryant's 2-stage operation that is more efficient, quieter and more comfortable.
Variable-speed fan offers gentler heating and cooling along with enhanced humidity control.
Supports Bryant Thermidistat or standard thermostat.
Quiet Tech features reduce operating noise.
Dedicated upflow model.
Sizes from 60,000 Btu to 120,000 Btu.
10-year parts warranty covers the heat exchangers and all parts.
Prices of Bryant gas furnaces are based on averages throughout the country. The price of a gas furnace in your area will be affected by the relative cost of living and other factors. Use these Bryant Preferred 95i prices to compare this furnace with others on our site.
60,000 Btu Bryant Preferred Series 95i model 355BAV gas furnace: $2,700
100,000 Btu Bryant Preferred Series 95i model 355BAV gas furnace: $2,900
120,000 Btu Bryant Preferred Series 95i model 355BAV gas furnace: $3,300
Bryant preferred series 95i models can be found online from large distributors. However, you many not find the size you need and shipping costs can be expensive.
If you can't source your preferred model on line, or if you also want a price estimate for installation, you could request 3 free estimates online. These competing estimates come from local heating companies in your area and are certified Bryant dealers and installers. The quotes are usually attractive and this can be the best way to save money on the equipment and installation. There's no cost or obligation for using the service.
As you shop for gas furnaces, the Bryant Preferred 95i is comparable to Carrier Performance models, American Standard Gold furnaces, Lennox Elite models and Trane XV furnaces and is competitively priced with such models. If you want a more affordable furnace, choose a model with fewer features or, in warmer climates, choose a less efficient furnace. The Bryant Preferred 95i gas furnace model 355 BAV ensures that your energy bills are reduced thanks to its 95% efficiency while making your home very comfortable throughout the year regardless of the weather.
Whichever model you finally decide to select for your home, you should consider carefully your requirements and only choose the model which matches those requirements closely.