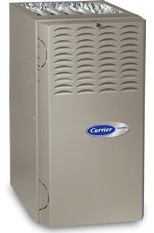 Carrier gas furnace prices offer the instant comfort of gas heating with ultimate control. If you're looking for the cozy comfort of a gas furnace with precision engineered heating, then Carrier gas furnaces are for you. The Carrier Infinity ICS modulating gas furnace temperature control offers precise heating as well as the solid Comfort 80.
Invest in energy efficiency, invest in Carrier. By looking for a high AFUE rating you'll save more money in the long run. Carrier is known for producing a comfortable indoor climate, but also for its quality, precision, and innovation. One of the top gas furnaces in the industry, the top of the range Carrier Infinity gas furnaces are among the most technically advanced money can buy. Carrier designs four separate types of gas furnaces to meet every heating need and budget.
The company has been successfully operating since 1902 and for more than a century, the Carrier brand has brought innovation and heating solutions which have been revolutionary to the way we heat, cool and purify the air in our homes. As one of the largest HVAC companies in the world, Carrier is an industry leader in residential and commercial heating and air con systems. The Carrier brand is synonymous with innovation, energy efficiency and value for money. Being able to choose from any of the four brands gives you flexibility choice and affordability. Top of the range Carrier furnaces are expensive and high end, but equally their advanced features enable greater climate control and energy efficiency.
Carrier Infinity Series
If superb control is what you're looking for, the Carrier Infinity series represents one of the most advanced gas furnaces on the market. Intelligent products with infinity control, they allow the greatest control of humidity temperature and air quality for your home.
If you want the best control of temperature, humidity and air quality in your home, the Infinity Series should definitely feature on your shortlist. Staged heating and variable-speed blowers are standard in this series. The models offered in the Carrier Infinity gas furnace series are: Carrier Infinity ICS (95% efficient), Carrier Infinity 96 (96.6%), and Carrier Infinity 80 (80%).
Prices range from $4,000- $7,000
Carrier Performance Series
This particular series offers some single-stage, single-speed blowers and some 2-stage, variable-speed models giving you choice and affordability combined with enhanced indoor comfort. All systems are designed with quality and innovation and incorporate a 10-year parts warranty as you would expect. The Carrier Performance models are the Performance 96 (96.6%), Carrier Performance 95 (95%), Carrier Performance 93 (93%), Carrier Performance Boost 90 (90%), Carrier Performance Boost 80 (80%), and Carrier Performance 80 (80%).
Prices range from $3,000- $6,000
Carrier Comfort Series
These furnaces are single-stage, single speed models that emphasize affordable quality. They are offered in 3 levels of efficiency to give you choices right for your climate. The models in this series are the Carrier Comfort 95 (95%), Carrier Comfort 92 (92%), and Carrier Comfort 80 (80%).
Carrier Base Series
Whilst this is the basic model of gas furnace that Carrier offers, it still represents excellent quality and value for money. If you want a basic, reliable heating system for your home, workshop, vacation home or you are simply working to a tight budget where affordability is high on the list, then this is the model for you. The models available are the Carrier Base 90 (90%), and Carrier Base 80 (80%).
Prices range from $1,000- $3,000
Pricing
While Carrier gas furnace prices may appear expensive they undoubtedly offer a system that provides a very comfortably controlled indoor climate.
Combine your furnace with an Infinity Series central air conditioner and air purification system and you'll be ready to face whatever the seasons throw at you! There is a Carrier furnace designed to suit all pockets. Whatever Carrier gas furnace you decide upon, rest assured you'll find the right blend of price and performance to suit your climate control needs.
It goes without saying that all Carrier products come with a 10 year warranty for parts even for the least expensive furnace in the range, something which offers great peace of mind in challenging economic times.