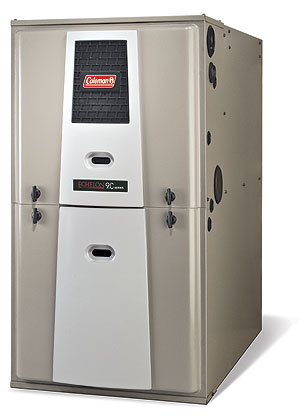 Finding the right Coleman gas furnace may be easier than you think. Although you may come across different Coleman gas furnace prices in various outlets it is usually best to double check with a local authorized dealer to ensure that you are receiving up to date pricing. The manufacturers behind Coleman gas furnaces are known for their high quality heating and cooling products which they have provided for many years. There are a wide range of reviews for this brand of furnace which for the most part consist of satisfied home consumers.
Coleman has been providing HVAC products for over seventy years and has since been acquired by another major manufacturer in the heating and cooling industry. Following this purchase, Coleman began offering consumers more advanced heating and cooling solutions, which included an upgraded range of gas furnaces. The Coleman brand continues to be much recognized among consumers.
There are three lines of Coleman furnaces: the Echelon Series, the LX Series, and the Comforteer Series. Although Coleman furnace prices may vary, a few facts may help you get a better idea of what you could expect to pay for certain models. The Echelon Series features models that are likely to be the most expensive of all three series. The Comforteer Series features models for consumers who are on a budget. An estimated price range for all 3 series is $3,000 on the lower end to around $5,000 on the higher end.
The Echelon Series includes 2 high performing gas furnaces that have 98& and 80% efficiency respectfully. Each model features a speed blower with different speeds and modulating gas valves. The 98% efficient model is useful for those in colder regions and the 80% option is more cost-effective in areas with a warmer climate.
The LX series features a variety of modulating single and 2-stage gas furnaces with variable-speed blowers. Some of the models are known for their affordability while helping homes maintain comfort. There are models that are 97% and 80% efficient. Furnaces that offer high efficiency have been recommended for those who live in cooler areas while furnace models with relatively lower efficiency are commonly used in warmer areas. The various options provided by this series makes it a good option for those who have a vacation home or smaller living space.
The Comforteer Series features 2 single-stage models that are Energy Star qualified. The first model is 95.5% efficient and the second model has 80% efficiency. Each model represents an easy and reliable heating solution. Models in the Comforteer series are seen as the most affordable in the Coleman range for those who are working with a tighter budget.
Depending on the climate and condition of your home as well as the area you live in the Coleman furnace prices you come across will differ. While you can compare, rate and review different models, a local dealer may be able to give a better estimate on overall costs. You could also get a better idea of Coleman gas furnace prices by looking at furnace reviews and feedback from previous customers. Coleman furnace prices are considered cheap in comparison to other manufacturers. While this could be the reason many homeowners are choosing to buy a Coleman furnace, your choice will ultimately depend on what your needs are and the price you are willing to pay for those needs to be met.
Purchasing your Coleman gas furnace from a qualified dealer may provide you with greater savings and security in the long run. Using an authorized dealer also increases the likelihood that your furnace will be properly installed and that you will receive a satisfying customer experience. Keep in mind that the warranty information may vary if you do not choose to buy your furnace from a qualified source.