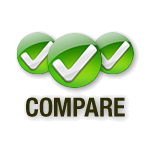 Using gas furnace ratings to assist you in your search will be vital when considering buying a new gas furnace because you are likely to be under pressure to replace an old one which is no longer functioning. The most important consideration should be the AFUE gas furnace rating of the unit. This will determine how energy efficient the furnace actually is when it burns fuel. The annual fuel utilization efficiency should be top of your list when you are comparing units. Another consideration is the 'fleet' efficiency of the brands that you are considering; this is the average efficiency across the range of models. The greater the efficiency the lower the cost will be to run the furnace, which with the current price of fuel is a key consideration.
Aire Flo, Payne, Trane and Crown are all manufacturers which offer more than a 100 models. One of the most difficult tasks you will have is filtering through all the comparison reviews to discover which model of furnace is best for your needs. However, if you are clear about your own requirements first and also understand the options which furnaces offer generally this will make your decision easier and you will be able to find the right furnace for your home heating and cooling needs depending on the budget you have set.
Gas Furnace Efficiency
If energy saving is high on your list coupled with reliability and quiet operation, then you need to understand the high efficiency furnace prices, ratings and functions of the boilers on offer. Remember that the AFUE rating does not include the heat losses through your duct system or piping which could be up to 35%! Also whilst a condensing unit can be costly, it can also save you money in fuel costs over the life of your boiler, which over a 15 to 20 year period could be a substantial sum of money.
The absolute minimum AFUE efficiency gas furnace rating for a non condensing warm air furnace is 78% and most units offer 80%. For a steam boiler minimum AFUE is 75%. A condensing unit's efficiency is usually around 10% higher than non condensing units and given its savings can prove a good investment in the longer term particularly if you are living in a cold climate. Higher efficiency units will have a sealed combustion unit and the ability to condense flue gases in a secondary heat exchanger using a coil system, so it may be worth considering a higher end model even if it initially proves a greater financial outlay as it will pay for its extra cost over time.
Gas Furnace Comparison
However if you are looking for a mid range model, then look for units with small flue pipes, exhaust fan controls which lead to greater precision of air and gas combustion. An electronic ignition is usually standard on these types of models as is a more compact size with lighter weight to reduce air cycling losses.
Overall therefore, having a comparison of boiler systems using gas furnace ratings will help you to narrow down your search, but you should be initially aware of whether you want a low mid or high range model and be prepared to justify your costs in terms of savings over the life of the model. Either way, you will no doubt be able to make an educated choice using the many review sites and forums on offer. Just make sure to do your research and don't be swayed by the prospect of an expensive boiler which is not suitable for your needs, or indeed a low cost boiler which is inadequate to heat or cool the size of your home.