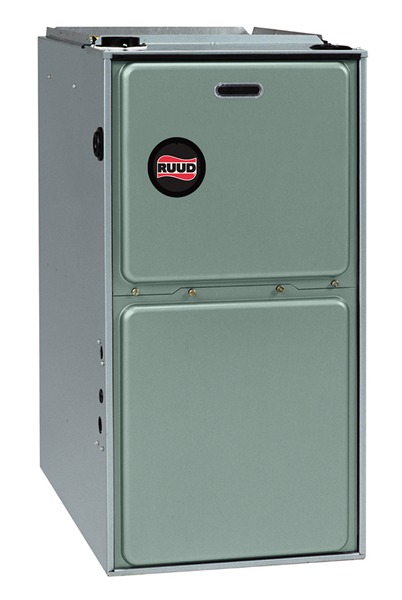 Ruud gas furnace prices are some of the more affordable and competitive available. Ruud has been a quality producer of heating solutions since the 1950s and the company started developing heating concepts after successfully creating the first automatic gas water heater. Since then Ruud has grown to be one of the largest HVAC manufacturers in North America. Ruud is known by consumers for offering quality innovative heating solutions that carry certifications from different testing facilities and governments to ensure quality standards.
Ruud offers an extensive selection of gas furnace models including 3 model lines: Ultra series, Achiever series and Value series. Each series offers energy efficient units at different Ruud furnace prices. Warranty details may also vary for each series. All three series feature efficiency models at 90% or more as well as 80% AFUE.
Ruud Ultra Series
The Ruud Ultra series offers maximum performance and efficiency. The series features multistage, modulating and two stage functions with operating capacities between 40% and 100%. Some feature communicating modulators with up to 28 on-board functions. Homeowners can easily make adjustments to achieve the desired air temperature. The units are available in horizontal, up flow and down flow designs. Estimated Ruud gas furnace cost for units in this series is between $2,000 and $3,000. Ruud gas furnaces in this series include:
Ruud Ultra RGFG Series 95% gas efficiency, Ruud Ultra RGGE Series 90% gas efficiency, Ruud Ultra RGIF Series 90% gas efficiency, Ruud Ultra RGPE Series 80% gas efficiency.
Ruud Achiever Series
The Ruud Achiever series offers models between 80% and 95% AFUE. Ruud gas furnaces come with a large variety of single-stage and multistage models. Some Ruud gas furnaces feature super quiet technology that allows the system to produce heat quietly and efficiently. Reduced noise levels and dual comfort controls make models in this series an ideal option for homeowners who reside in moderate climates. Estimated Ruud furnace prices in this series is between $1,500 and $2,500. A Ruud gas furnace can also help save on energy costs. Units included in this series are:
Ruud Achiever RGRM series 95% gas efficiency, Ruud Achiever RGRK series 90% gas efficiency, Ruud Achiever RGRA series 90% gas efficiency, Ruud Achiever RGLT series 90% gas efficiency.
Ruud Value Series
The Ruud Value series offers the most affordable heating options while meeting required standards. As an economical solution the series includes models with 80% to 90% AFUE. Some models offer Btu heating capacities between 45,000 and 120,000. These units offer integrated controls, quiet and balanced air distribution and draft inducer. The estimated cost of units in this series is $1,000 to $2,000. Ruud gas furnace models in this series include:
Ruud Value Line RGRT series 90% gas efficiency, Ruud Value Line RGLS series 80% gas efficiency, Ruud Value Line RGTS series 90% gas efficiency.
When considering Ruud gas furnace prices it helps to review care and maintenance requirements recommended by the manufacturer. This may include replacing filters or vacuuming around the unit to reduce dust accumulation. Warranty details should also be reviewed since they vary for each unit. Most carry a 10 year conditional warranty for parts. Yet, warranty details for unit replacement and heat exchanger may vary. There is also a 5 year limited warranty on certain parts. Review installation costs and details with a qualified HVAC contractor and you could also contact the manufacturer with any other concerns you may have about the unit.